2014-2015 Courses
Welcome to the Circo Volátil workshops for 2014 – 2015 Updated schedules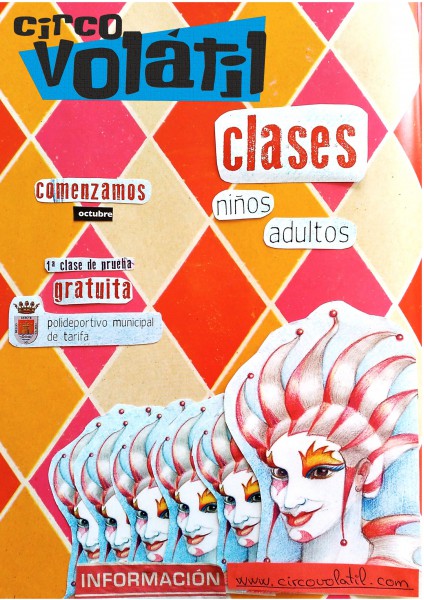 Here you will find all the practical information for our workshops.
This school year 2015-2016, workshops will start on October ! ! !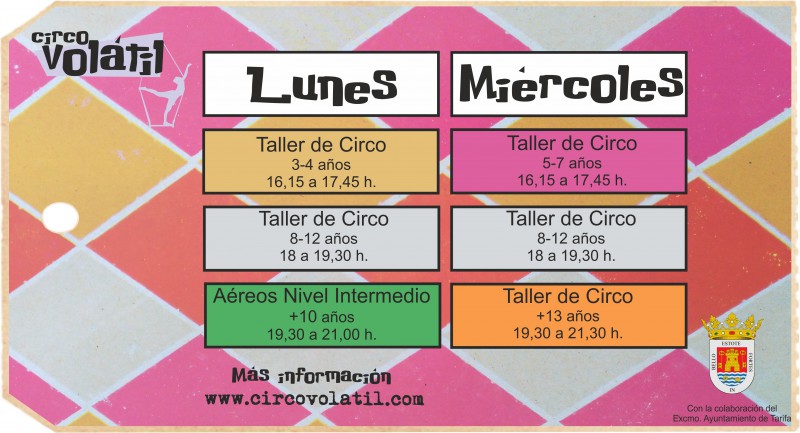 To get more information about our calendar, click here .
As usual, our workshops will be held at the municipal sports centre "La Raqueta", Tarifa. To see the exact location, click here https://mapsengine.google.com/map/edit?mid=z6arwbbwdemo.kvse_yIC0mtY
First class free! Come to meet us. Try the circus with no obligation!
We have new groups this year
* Circus Workshop for children ages 3 and 4 – Mondays 16:15-17:45
* Circus Workshop for children ages 5 and 7 – Mondays 16:15-17:45
* Circus Workshop for children ages 8 to 12 –Monday and Wednesdays 18:00-19:30
* Circus Workshop for youths ages + 13 and adults – Wednesdays 19:30-21:30
* Aerials Workshop intermediate level for children and adults from 10 years onwards – Mondays 19:30-21h.
-Limited number of students from 9 to 15 in all workshops, depending on the age range. Minimum of 5 students per workshop.
If you are willing to come and try a class, please tell us via email or phone and we will organize the groups. Thank you!
Prices:
* Registration fee
The registration fee is paid once a year in concept of insurance and materials costs. 15€ per student/year.
* Quarterly payment
This is the most economical payment method. Payment should be made at the beginning of the quarter.
1 day per week – 75€/ quarter.
2 days per week – 120€/ quarter.
* Monthly payment
Payments can also be made monthly it this suits you better. Payment should be made in the first week of each month.
1 day per week – 30€/ month
2 days per week – 50€/ month
*With this payment method, the second member of the family will get 5€ discount.
* Extra classes will cost 12€. This option is only available for adults.
* Individual classes
Individual classes tailored to the student specific needs may be booked. 2-3 persons with same level individual classes are also available. Individual classes need to be booked and paid in advance.
———————————–
*Payment of the fee of any of the workshops entitles the student to use the specific utilities concerning the workshop. Not using any of the services does not entitle to claiming the amounts paid, nor will the classes be made up for the days the student did not assist. Thank you very much.
————————————–
Outfit:
For the classes you will need comfortable clothing, leggings or tracksuit are the ideal choice. Please, NO zips. Use a hair band if you have long hair. Bring your own water bottle, because as children say "¡circus makes you tired!".
For the classes, you can be barefoot, or use thin sole slippers as for acrobatics, gym or ballet.
—————————————
Book your place
To attend courses or workshops, it is mandatory to confirm assistance, even for test classes, in order to be able to provide all necessary materials. To book your place, send an e-mail to circovolatil@hotmail.com including the following data:
Student name:
Date of birth:
Group to be attended and days of the week:
Or you can fill out this form:
_______________________________________________________________________________________________________
For any other questions, please call or e-mail to:
Sara: 680 96 84 35 / circovolatil@hotmail.com
Hope to see you soon at the municipal sports centre.
Regards,
Sara Circo
__________________________________________________________________________________________________